Seller Will Finance Home....No Banks Necessary!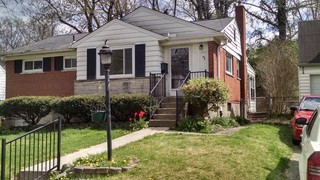 Location:
Finneytown
We are willing to finance this home. If you're looking for a home you can OWN, not rent, but have flawed or no credit, reach out to us!!
We're willing to offer this charming ranch-style home with a long-term Rent To Own (some may call it a "Lease Option") arrangement. OR….you can get your own bank financing. But you have a choice….this is a plan that offers you the flexibility for you to choose!
Contact us for additional details at 513-828-6372. But ideally, before calling, keep on reading as we believe 95% of most questions will be answered in this post!
Here are some details about the home….The home has 3 bedrooms and 1.5 baths. The kitchen was remodeled about 4 years ago with new cabinets. All appliances will stay, including dishwasher, stove and refrigerator. The carpeting needs replaced and we'll offer you the chance to pick your own carpet colors. You'll have an attached garage and a full basement that is partly finished. You will enjoy a living room as well as an additional family room that has been added as an addition on the back of the home. With this addition, the home is much larger than it appears from the front or street level. The back yard isfenced so BRING your pet(s).
You gotta check this out....pictures won't do it justice!
Additional features and mentionable items: central air conditioning, a 8 year old roof and gutters, fenced back yard with large concrete patio and newer windows throughout the home.
This home is in move-in condition. BUT…There are still some things that need work....the carpet needs replaced in the family room, bedroom and living room. The hardwood in the 2nd and 3rd bedrooms will need sanded and a coat of polyurethane to make them shine again. And the shower needs either tile replaced or a shower surround unit put in place. We'll pay for these improvements with a $3,000 redecorating allowance once we have our buyer (hopefully, YOU!).
Please drive by then call us to schedule a time to walk through. Additional details: We're not concerned with past credit or your credit score. We're more concerned with current income, that you can afford the monthly payment, and if you can put money down on the home. You do not need a bank to own this home….EVER! Or you CAN get a bank loan…its entirely up to you! ORyou can start off with a Rent To Own arrangement and then get bank financing later when your credit and income might allow you to qualify for conventional or FHA financing.
Rent-To-Own Terms: Price: $92,900. Option Fee for Rent-To-Own: $7,000. You will receive 100% credit off the purchase price for the option fee. So this will leave a balance of $85,900. Your rent payment will be $925/month with $150/month rentcredit toward purchase of the home. You can always pay more per month (to reduce your balance) or pay the home off earlier if you like or just refinance it with a bank anytime you want.
We can also work with you to spread out part of the option fee if that will help you.
Hope this helps answer some of your questions. Are there more details you would like to know? Here's a couple options:
1. You can call us at 513-828-6372. Please leave a message with your
number if we don't answer.
-OR-
2. Click this link: https://m.me/FirstHome4Me?ref=w1813870
If the link is not clickable, please copy and paste the url into your browser.
Thanks!


Lease Option, Seller Financing, Rent To Own:
Rent To Own, Lease Option, Owner Financing
1055 Hempstead Dr
Cincinnati, OH 45231
View Map
School District:
Finneytown
All information in this site is deemed reliable but is not guaranteed and is subject to change
ID#: 55275046
Location: Cincinnati, OH , 45231
Address: 1055 Hempstead Dr, Cincinnati, OH, 45231, US
School District: Finneytown

Price: $92,900
Bedrooms: 3
Bathrooms: 1